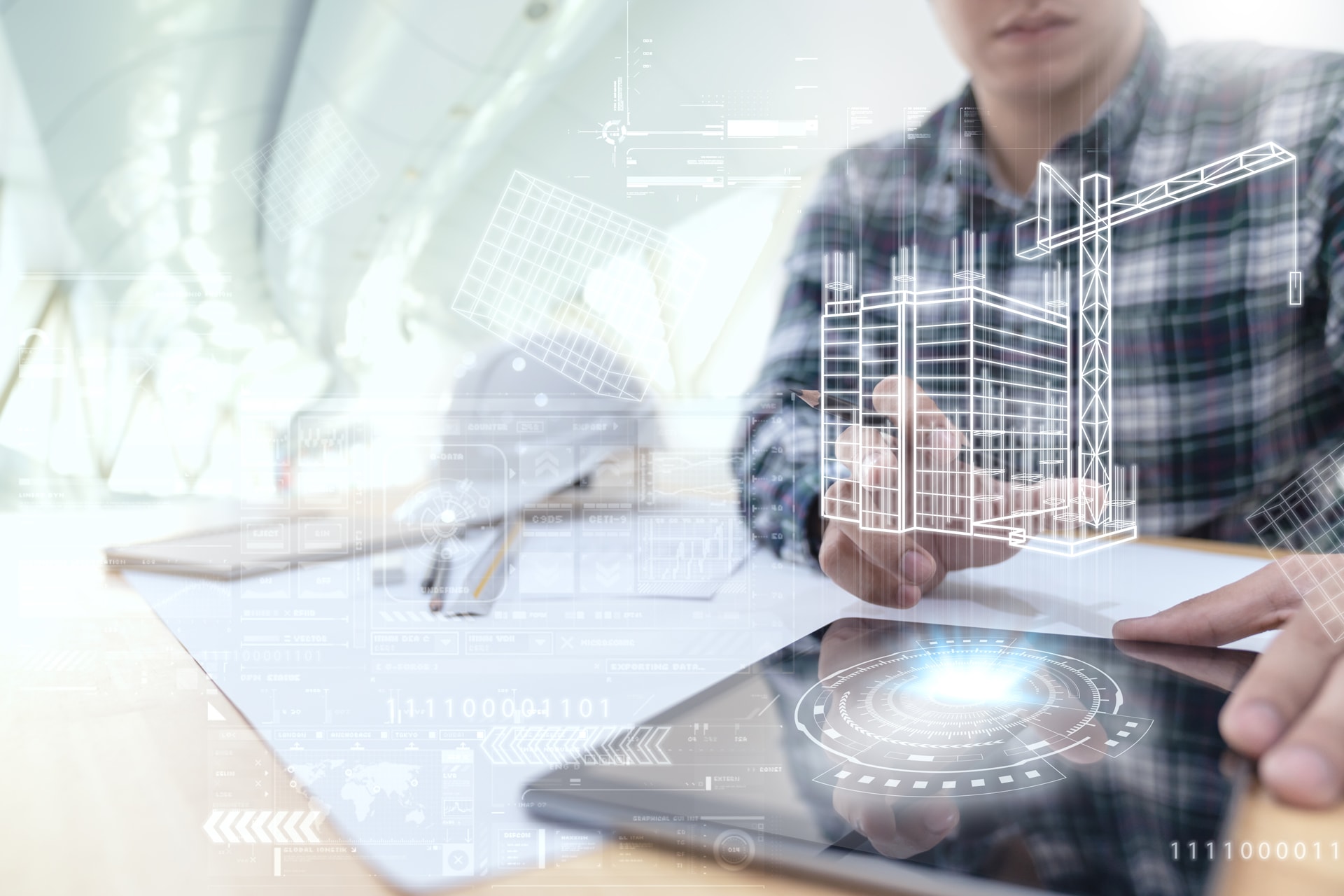 It's 2020 and many of us have happily embraced couch culture. Beyond binge watching your favorite show on Netflix, you've proven that you can successfully run business meetings, write papers, and teach makeshift math classes to your kids all while sporting your signature sweats. You can't however – build a skyscraper from the comfort of your couch – unless it's made out of Legos. But while some in-person aspects of the construction industry can never truly be replaced, major technological advancements are breaking down barriers and helping crews succeed, even in the middle of a global pandemic. Long before the Covid-19 pandemic caused operations to shut down this past spring, a technological industry shift was underway. Big data, artificial intelligence (AI), and automation, as well as technologies like drones and 3D printing have been implemented industry-wide. With restrictions on job sites and safety measures in place to protect both worker and client health, construction companies need to do everything they can to stay competitive. Let's explore what big data means, and how tele-building can help you save money, improve efficiency and prepare for the remote possibilities of the future.
Big Data
"The world's most valuable resource is no longer oil, but data."
The huge quantities of information that have been stored in the past and that continue to be gathered every day is known as big data. This information can come from a combination of people, computers, machines sensors, and any other data-generating device. Generally speaking, it helps to streamline a construction operation. Historical big data can be analyzed to identify construction risk probabilities, or weather and traffic patterns to help you plan more efficiently. It can even be used to help you save money by evaluating previous projects' overspend or unused materials. Machine sensor input can help to determine active and idle machine operating time so you can make smarter decisions about buying or leasing equipment. So, what do you do with the data once you've collected it? You can get an even more accurate building process in place once your data is fed into a solid Building Information Modeling (BIM) program. A 2018 case study found data-driven BIM can cut construction expenses by 18% and reduce completion time by up to two weeks. The possibilities for cost-cutting are endless, and as you know, time is money. One way that data collection is further fueling faster, more efficient construction, is through enabling what's being described as tele-building.
Tele-building
"Just as telehealth has transformed life, so will tele-building."
Industry expert Jeevan Kalanithi believes that just as telework and telehealth have erupted, so will a concept he describes as tele-building. "We believe that tele-building will soon take off to scale the expertise of our superintendents, project managers, inspectors, and foremen," said Kalanithi. "If your captures of the site are high-quality, you can reduce the amount of in-person visits needed, saving time and money, as well as improving knowledge transfer." As the CEO of OpenSpace, Kalanithi envisions digitally strolling sites as the way of the future. OpenSpace offers a photo-documentation solution that allows builders to walk a job site with a small camera on their hardhat. The solution then automatically handles the capture, uploading, and organization of those images. The result is a maneuverable experience similar to Google Street View, made possible by computer vision that can be viewed and analyzed from anywhere, bringing the job site to remote workers. While larger projects like renovations or multi-year megaprojects will cost you, you can trial the concept by using OpenSpace Photo to capture smaller areas and quickly generate 360 degree photo documentation for free.
Every day, new tech is emerging. It can feel overwhelming to stay caught up on the latest breakthroughs or cutting-edge trends you need to know about to keep your business running smoothly. The professional team at RBT is here to help you navigate the fast-paced world we live in. Please do not hesitate to reach out and schedule a conversation to discuss your business needs, today.